Infrastructure Procurement
Delivering complex and successful infrastructure procurement projects
INFRASTRUCTURE SOLUTIONS >
Infrastructure projects and capital programs can be challenging and need to balance how to best manage project risk, budget and timeline while achieving long-term economic, social and environmental benefits that may be realised over several decades.
Our experienced team have identified five important practices fundamental in delivering value for money through infrastructure procurement:
Fitness for Purpose – selecting preferred procurement approach based on project specifics
Cost Management – selecting and developing preferred commercial structures based on project specifics
Risk Management – appropriate allocation of risk to maintain value for money
On-time Delivery – getting the fundamentals of project management, governance, reporting and delivery established and right
Social and Economic Benefit – proactive approach to social outcomes and community engagement.
Key principles that deliver effective & efficient capital delivery programs:
Program Strategy and Planning

Process, Systems and Governance

People Capability

Supplier and Market Development

Performance and Risk Management

Continuous Improvement
Our Solutions
For each stage of the Asset Lifecycle, ArcBlue offers a range of services:
Dispose Stage – Services
Asset decommission and disposal procurement support
Maintain Stage – Services
Minor works program delivery

Asset Operations Contracting support

Asset (MRO) Supply Chain Management

Supplier Relationship Management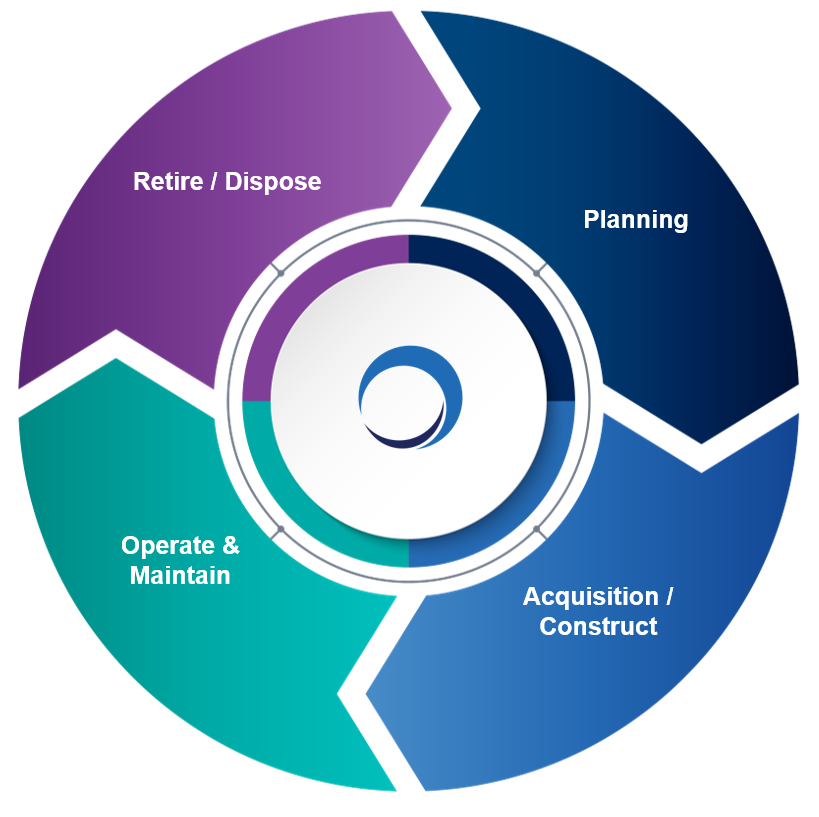 Planning Stage – Services
Grants process management

Business Case development

Construction Category planning

Infrastructure Social & Sustainability strategy

Bid Advisory services
Construct Stage – Services
Major project procurement delivery – across the full range of Procurement & Contracting options
Infrastructure Projects Training

Infrastructure Procurement Frameworks
Enabling Technology

Construction Category Analytics
How we can support your Capital Works program
Organisations that are delivering capital works programs face several challenges — whether they are taking on a handful of small and medium-size projects; a portfolio of diverse projects.
The goal of a best-practice capital program procurement should consider the definition and strategy, specifics of the supply market, and the capabilities of the company.
Our Capital Program review and commercial offering is based upon the below process and methodology and includes on-site workshops with procurement staff and internal stakeholders.

Why speak to ArcBlue for your next Infrastructure Procurement project?
Deep Infrastructure Experience
Our team have real infrastructure projects industry experience, not just consultancy experience.
Expertise Across the Full Spectrum Delivery Models
Deep experience in all Infrastructure delivery models: CO, D&C, DC&M, EPCM, EPC, PPP and ECI.
Diverse Project Track Record
We have delivered successful projects across various asset classes including Building, Recreational, Community, Bridges and Operational Assets.
Solutions Across the Full Asset Lifecycle
We add value across the four phases of an Asset Life-cycle: 1. Planning, 2. Construct, 3. Operate, and 4. Dispose.
Multi-Sector Experience
Our experience is across both Public and Private sector, this includes State and Local Govt, Water and Power Utility, Transport, Health and Higher Education.
A Focus on Sustainable Solutions
We are passionate about delivering Sustainable Infrastructure solutions.
Our Infrastructure Procurement Team