ArcBlue Procurement & Supply Chain Resource Centre
Download our best practice procurement & supply chain guides, templates & playbooks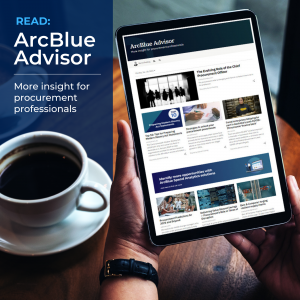 Click to read the latest edition or subscribe to Advisor to get updates straight to your inbox below.
Procurement's role in driving sustainability
There is a growing realisation that companies have a far bigger role to play than simply pursuing growth and profitability at all cost. So how can Procurement drive the sustainability agenda in organisations? Senior Consultant Chris Hampden offers his advice on how Procurement can approach 'getting started' with sustainability.
Making your supply chain more resilient
With everything that's happening in the world right now, supply chain resilience has become a trending topic. So how can organizations ensure their supply chains become more nimble? Regional Director for South East Asia Adrian Gjurasic shares his insights on supply chain resilience.
Procurement's role across the Asset Lifecycle
Shane Lamont, Executive Regional Manager for NSW explains how procurement can play a significant role in supporting infrastructure procurement across the asset lifecycle, and explores the different commercial & contracting options available. 
Better outcomes with ArcBlue Search
ArcBlue Search Director Dympna Wong explains how ArcBlue Search provides superior Executive Search & Recruitment results to their clients in Asia with their team of industry veterans.
Why should Sustainability be on the agenda?
Sustainability is now one of the most important topics of discussion in board rooms all around the world today. So why should all organisations take sustainability seriously? Senior Consultant Chris Hampden explores key reasons why organisations should start putting on the agenda.
Supporting public sector procurement
Executive Regional Manager Justin Sara explores the common key challenges faced by public sector procurement, and how ArcBlue works to address their needs.
Digital Procurement & Customer Centricity
Daniel Fielding, Managing Director, explores how digital procurement can enable better customer & supplier centricity, and how leading organisations are benefiting from an ecosystem approach to procurement digitisation.
Effective & Sustainable Learning & Development
Jacqui Priestly, Executive Manager for Capability, explains how we need to train our teams to deliver. The key objective for any learning & development program is a noticeable and sustainable change in behaviour or output.
Overcoming Social Procurement Challenges
Managing Director Chris Newman explains how Social procurement is emerging as a priority for both Government and industry, however the concept is often not well understood.
Reducing costs and protecting profitability
Executive Regional Manager Chris Hodgson explores how business leaders today are under immense pressure to reduce costs and protect profitability.