Our mission is to deliver positive change through procurement
ArcBlue was founded in 2013 by Managing Directors Chris Newman and Dan Fielding. Chris and Dan are experienced procurement professionals and are passionate about the opportunity that procurement offers to support organisations to achieve more.
Their blend of skills, interests and experience laid the foundation for what has grown into an organisation with broad and deep expertise.
ArcBlue has 6 specialised practices – Advisory & Change, Capability Development, Procurement Technology, Social & Sustainable Procurement, Project Resourcing, plus the specialist search and recruitment firm operating across Asia, ArcBlue Search.
Now, as an independent subsidiary of Bain & Company, ArcBlue & Bain will deliver an integrated end-to-end procurement transformation offering. Find out more about Bain & ArcBlue here.
The rapid growth of ArcBlue can be credited to the team that has grown with the business along the way. ArcBlue's passionate team of professionals have strong, credible experience and a dedication to helping their clients achieve more through procurement.
ArcBlue now has a team of over 150 consultants and is looking forward to expanding the team further. Click below to see how we've grown over the years!
Driven by Passion & Innovation
Chris and Dan's personal passions drove them to set up ArcBlue in 2013.
Chris is passionate about social change, realised through his development of the Social & Sustainable Procurement service offering, and his involvement in Social Procurement Australasia since the beginning of the movement. Dan is motivated by innovation and transformation within procurement, and his passion for realising capability uplift in the profession. 
Innovation & Passion feature as two of ArcBlue's core values. 

Be Authentic
We are genuine and transparent in our approach. We feel empowered to present our authentic selves, and in turn embrace authenticity in others. 

Work With Passion
We are passionate about our work and inspire passion in those we work with. Our passion is fuelled by the potential for driving positive change. 

Embrace Innovation
We embrace innovative thinking, and encourage good ideas and initiatives to be translated into practice. 

Be Accountable
We are accountable for our own work and take ownership and pride in the pursuit of excellence across the organisation. 

Encourage Collaboration
We celebrate our diverse strengths and experience, and encourage collaborative work practices to bring minds, initiatives and people together.
Our Delivery Philosophy
We believe that organisations want practical, hands-on advice from experienced professionals, not theory from academics. We understand that our clients need support to deliver and embed change in their organisations. 
Procurement leaders are consistently being asked to deliver "more" by their organisations. More value for money, more cost savings, more efficiency in process, more insights into spend, more social outcomes, more clarity for decision making, more influence in the boardroom… the list goes on. At ArcBlue, we have the experience, the methodologies, the tools and the resources to support organisations to achieve more through procurement.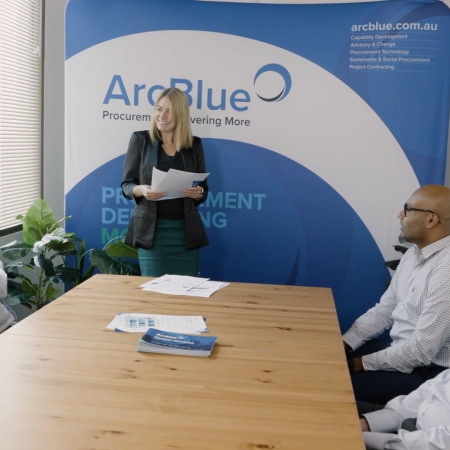 We have a team of over 150 consultants and analysts across Asia Pacific who are passionate about the potential for driving positive change through procurement.