"ArcBlue is a great place to work. I love the flexibility and culture of openness that allows us to keep growing and settling into our roles."
Get to know Dippinder Kaur, Database Consultant (Analytics)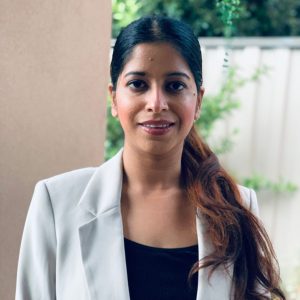 How did you end up here? What is your professional background?  
I have experience in database, analytics, research, and teaching. I have worked primarily in the technology and education domain. Being a data and analytics person, ArcBlue has provided me with the blend of the role to use my skills to ensure data sanity, availability, and accessibility.
How do you spend most of your days?
I provide support in the delivery of the ArcBlue analytics products and services. I look into ArcBlue's database environment and make the database highly available. Most of the time, I work closely with the analysts to get the data loaded and refreshed.
What are you working on at the moment?
Working on an internal project to analyse the current state of the data engineering and understand what and how next-generation technology can be incorporated for more secure, agile, highly performant and available infrastructure.
What trends do you see in your work?
Database administration involves continuous maintenance and monitoring. Experiencing diverse issues around the database has made it easier to understand the problems and provide solutions more quickly. My focus is to get the long-term solutions for the recurring issues and automate the jobs which require manual fixes.
What do you enjoy about working in consulting?
Consulting offers remarkable prospects to work with a team of talented people and learn best business practices that you can apply in any context.
What are you currently trying to upskill in?
I am trying to know more about the different flavours of databases. Reading and learning about emerging cloud database technologies.
How long have you been at ArcBlue? What made you join us?  
I joined ArcBlue in early 2019 and it has provided me with the right type of role that I was looking for.
What project has been the most fun / the meatiest to work on at ArcBlue?  
I love the projects that involve building SSRS reports. They are always fun to create.
What's the reason you love to work at ArcBlue?  
ArcBlue is a great place to work. I love the flexibility and culture of openness that allows us to keep growing and settling into our roles.
What's something not many people know about you?
I love meditation and yoga. It gives me core strength and brings me balance. It helps me manage my energy and mood.
What can we normally find you doing on the weekend?  
I love just going out with my daughter. Take her to Victorian parks, and nature trails. The rest of the weekends are spent cooking.
Want to know more? Reach out to Dippinder