Social & Sustainable Procurement
Empowering procurement to make sustainable impact every day
At ArcBlue, our mission is to drive positive change through procurement. 
At ArcBlue, we see that there is widespread recognition across society that the world needs to address ESG challenges as a priority. As a result, businesses are broadening their focus to consider the 'triple bottom line' as they build socially responsible and sustainable practices into the way they operate.
Companies are increasing their focus on ESG for a number of reasons including regulatory requirements, customer and investor expectations, talent attraction and retention, and competitiveness. Fundamentally, it is the right thing to do for the sake of current & future generations.
Studies also indicate that organisations that integrate social and sustainable procurement practices through their end-to-end procurement processes experience multiple benefits. This is why Social & Sustainable Procurement is a key focus for us at ArcBlue.
Our Social & Sustainable Procurement Expertise
ArcBlue has a well-established Social & Sustainable Procurement practice. Our experts have knowledge and experience working across all facets of the current ESG agenda, incorporating both Sustainable Procurement and Social Procurement practices, including:
SOCIAL EXPERTISE
Social Procurement

Diversity & Inclusive Employment

Economic Development

Modern Slavery & Human Rights

Indigenous Employment & Procurement

Health & Safety
ENVIRONMENTAL EXPERTISE
Sustainable Sourcing

Carbon / GHG Footprint

Resource Consumption & Energy

Waste & Recycling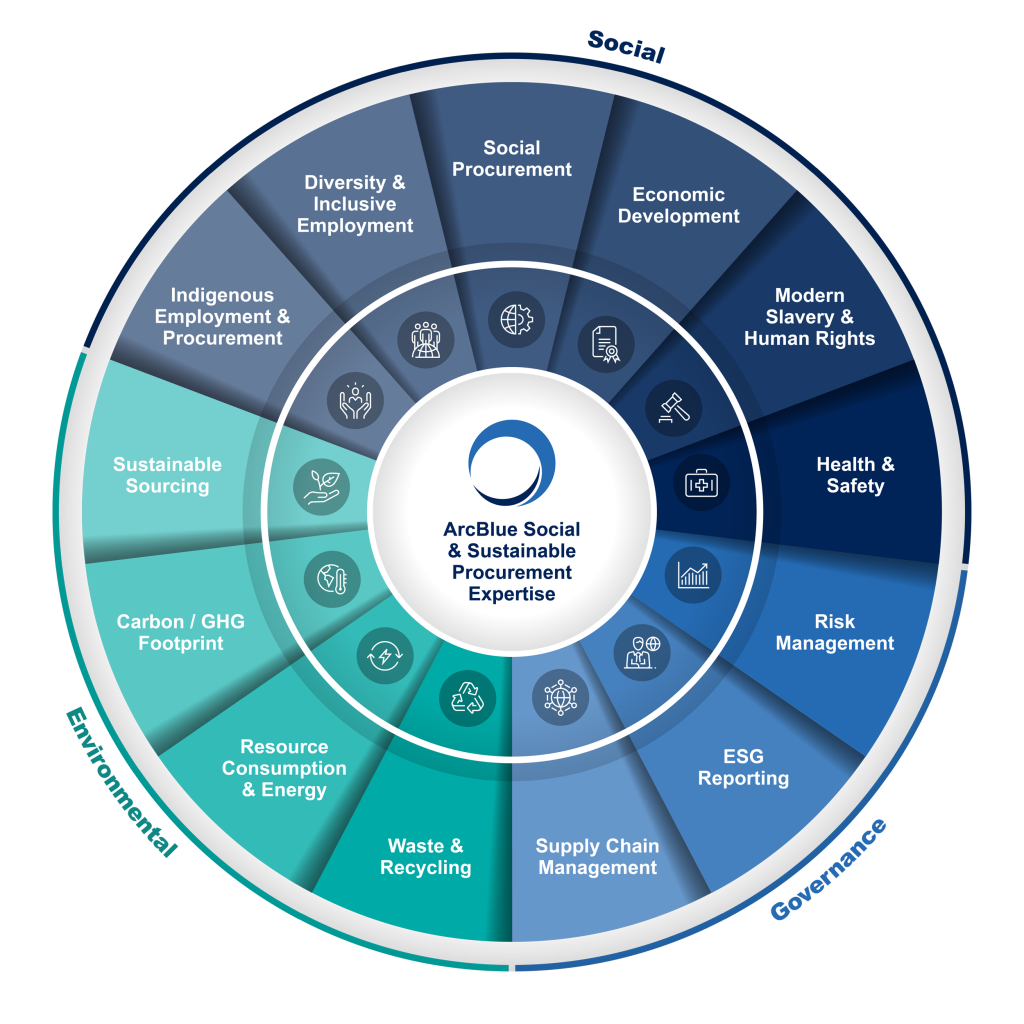 SOCIAL PROCUREMENT STRATEGY, FRAMEWORKS & POLICY
Review your current organisational practices, compliance with Modern Slavery and the ISO landscape, get strategic advice on projects and tendering and get support to mobilise and embed social procurement programs.
SOCIAL PROCUREMENT ANALYTICS
Visualise your impact with Social Procurement Dashboards and create meaningful models to set targets, track progress and report on social procurement activities.
SOCIAL PROCUREMENT CAPABILITY DEVELOPMENT
Uplift your team's capability, knowledge, skills and their ability to deliver social outcomes.
PLACE-BASED SOCIAL PROCUREMENT PROGRAMS
Design and delivery of place-based partnership programs, using ArcBlue's expertise to drive local economic development and address disadvantage through local and social procurement and inclusive employment.
SUSTAINABLE PROCUREMENT MATURITY DIAGNOSTIC
Review how Sustainable Procurement principles are embedded across your end-to-end procurement processes and gain a Roadmap for future improvements​.
SUSTAINABLE PROCUREMENT ANALYTICS
Visualise your spend data on Sustainable Procurement Dashboards that highlight sustainability opportunities & risks, and identify priority areas to focus on​.
SUSTAINABLE PROCUREMENT CAPABILITY DEVELOPMENT
Assess individual capability to establish a baseline for Sustainable Procurement capability and identify areas of strength and room for growth in your business.
Need to drive positive change with Procurement?