Social & Sustainable Procurement
Drive positive change through your procurement & supply chain
ArcBlue is at the forefront of the growing field of Social & Sustainable Procurement. We are thought leaders and expert practitioners in this space and have significant experience supporting organisations with a wide range of projects.
We leverage our globally leading consulting, training and analytics practices and our expert team into our Social & Sustainable Procurement services to support our clients across all layers of government and the private sector.
ArcBlue offers a deep knowledge of concepts, practical experience and adaptable resources to help you design, develop and implement effective solutions to drive positive impact through your procurement.
At ArcBlue, our mission is to drive positive change through procurement. 
SOCIAL & SUSTAINABLE SERVICES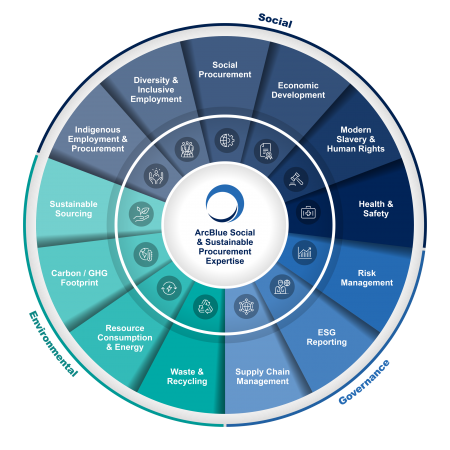 STRATEGY, FRAMEWORKS & POLICY

Identify opportunities and focus your organisation's social & sustainable procurement roadmap
Social & Sustainable Procurement strategy development

Social & Sustainable Procurement policy development

Social & Sustainable Procurement framework design

Social & Sustainable Procurement opportunity analysis

Documentation review
We can bring together the outcomes of stakeholder workshops and a documentation review to develop a Social & Sustainable Procurement Strategy that meets organisational requirements while delivering public value.
LEGISLATION, MODERN SLAVERY & ISO 20400

Assess your organisation's compliance within the emerging legislative and ISO landscape
ISO 20400 compliance

Modern Slavery Act compliance

Legislative Compliance
ArcBlue can help organisations to review and identify gaps that may exist in their sustainability policies, procurement processes, guidelines, work instructions and systems against the ISO 20400 Sustainable Procurement Standard. We use a sophisticated tool to systematically assess procurement activity against international good practice before developing a roadmap containing recommended actions to close any gaps.
Our key Modern Slavery services include: training, supply chain risk assessments, development of organisational strategies and assistance with implementing modern slavery considerations within procurement.
Our Legislation (as relevant to procurement), Modern Slavery & ISO 20400 expertise can be applied to the provision of all other service streams.

Specialist advice to assist you when tendering for social or Indigenous evaluation criteria, or when bidding on economic and workforce development requirements
Evaluation criteria advice

Bid evaluation panel specialists

Bid response positioning & development

Local supplier, Indigenous business and social enterprise identification and engagement

Workforce planning, forecasting and recruitment strategies

Bid writing and document drafting, including social procurement compliance plan development

Client engagement and support in interactive processes

Ongoing support for contractors with fulfilment of social procurement obligations, including supply chain analysis and mapping, training, networking, events and reporting
To develop a local/social procurement plan, ArcBlue undertakes an analysis of the current state and engages relevant stakeholders to identify local challenges and opportunities. We use these insights to create a detailed strategy to drive the transition from project bid to project delivery.

Uplift your team's capability, knowledge, skills and their ability to deliver Social & Sustainable outcomes
Leadership development & engagement

Social & Sustainable Procurement training

Economic development training

Modern Slavery training

Guidance material development

Indigenous procurement & cultural awareness training

Inclusive employment training

eLearning programs

Organisational capability assessments
To appropriately adapt our toolkit and training material, we work with organisations to understand their objectives and desired learning outcomes. We then align our modules into a comprehensive and practical course to meet their specific requirements and deliver training through a blended approach to reach different learning styles.

Mobilise and embed Social & Sustainable Procurement with hands-on help and guidance from trusted subject matter experts
Strategy implementation

Change management planning & implementation

Communications & engagement planning & implementation

Implementation review

Case study preparation
To develop an implementation plan, we conduct workshops with core stakeholders and review existing documentation to ensure we understand the organisation's priorities and business needs. We then seek feedback before presenting the final Plan and supporting materials.
SUPPLY CHAIN ENGAGEMENT & DEVELOPMENT

Support, advice and facilitation to help you engage with and develop your supply chain including SME's, social or Indigenous suppliers
Social & Indigenous supplier development

Regional SME engagement

Supplier engagement workshops & networking events

Supply market analysis and mapping
ArcBlue has established the Indigenous Development practice to support organisations and projects to be inclusive, engaging and culturally aware throughout the procurement process, including:
IMPACT MEASUREMENT & REPORTING

Create meaningful models to set targets, track progress and report on your social and sustainable procurement activities

Design and delivery of place-based partnership programs, using ArcBlue's expertise to drive local economic development and address disadvantage through local and social procurement and inclusive employment
ArcBlue place-based programs utilise bundled Social & Sustainable Procurement services, delivered in collaboration with other organisations, to drive local development.
Key objectives of these programs include:
Maximising the impact of local spend on job creation and regional economic development

Delivering jobs for target communities through social procurement
ArcBlue contributes to place-based programs in several key areas:
Providing program lead services

Liaising with stakeholders to gain feedback and buy-in to the program

Being a conduit between government organisations, local businesses and social enterprises

Providing guidance documentation, procurement tools and templates

Training local businesses and assisting with communications around the program

Providing procurement expertise

Undertaking data analysis and economic modelling

Supporting the delivery of major projects with a focus on maximising local and social impact
GROW – Growing Regional Opportunities for Work
GROW is a collaborative program that seeks to strengthen regional social and economic outcomes and increase job opportunities through procurement and employment. GROW is an initiative originally developed between the Give Where You Live Foundation and the Geelong Region Alliance (G21) to address place-based disadvantage in four key postcodes in Geelong and Colac. Through our work with GROW Geelong we have established ourselves as leaders in place-based programs. In 2018 following community consultation, the Latrobe Valley Authority engaged ArcBlue to deliver the GROW Gippsland program.
We are now supporting the following GROW programs across regional Victoria:
Geelong

Gippsland

Ballarat

Bendigo

Shepparton
Broadening Horizons
ArcBlue is proud to support the Broadening Horizons program, an innovative educational model designed to build the aspirations of young people and support increased engagement in learning. Broadening Horizons operates across the Gippsland Region of Victoria, and equips students from grades 5 – 9 with the skills and dispositions needed for a changing 21st century economy through real world learning. 
The program was launched in response to the Regional Education Jobs and Skills Plan 2012 – 2014, which released data to suggest that school retention rates for year 7 – 12 in the Gippsland Region were much lower than the Victorian State average. 
WHY ARCBLUE FOR SOCIAL & SUSTAINABLE PROCUREMENT?
Social & Sustainable Procurement Leaders
We are leaders in the field of Social & Sustainable Procurement across the Asia Pacific region.
Specialist Expertise
We have a highly specialised team with experts in economic development, social procurement, Indigenous business procurement, inclusive employment and workforce planning.
Integrated Service Offering
Our Social & Sustainable services can be integrated with our analytics, training and consulting services.
Our Experience
We leverage our many years of experience working within Social Procurement in major projects, across multiple industries.
Strong Partnerships
We have strong partnerships in place with other relevant suppliers to this field of work and leverage these to benefit our clients' outcomes.
Leaders in placed-based programs
Through our involvement in the GROW regional place-based programs, we are leaders in the delivery of large, collaborative regional change programs.