COVID-19 Supply Chain Roadmap to Recovery
by Daniel Fielding, Managing Director, ArcBlue 
How resilient is your supply chain to the COVID-19 crisis? In this article, we share our Supply Chain Risk, Resilience and Recovery (Supply Chain RRR) roadmap to help guide procurement functions and supply chains through this catastrophic event.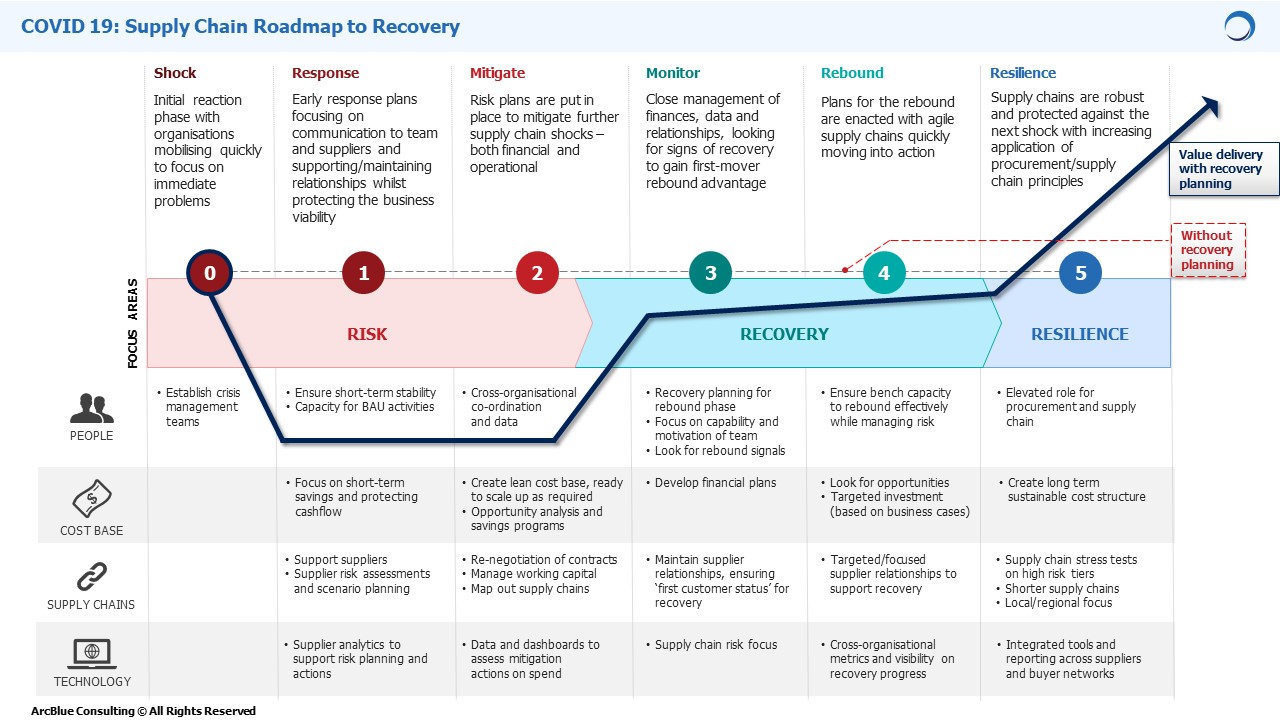 Since COVID-19 first jarred its way into our lives, organisations have been reacting to the crisis. Our reactions depend on how prepared we are and, like any crisis, there are various stages to work through – from those who are on the front foot, to those focused simply on survival. Leading organisations will move through the stages quickly, rebounding stronger than ever. Enacting their Business Continuity and dusting off the Disaster Recovery Plans has worked for some, but others are either not prepared or their plans are inadequate for such an event. Being uncharted territory, for many the path to recovery is unclear.
Shock
As with any crisis or sudden change, shock is (of course), the first phase for organisations to transition through. The initial impact results in scrambling to keep operations going and working closely with suppliers to understand the impact.
Leading organisations mobilise quickly with internal crisis management teams focusing on priority issues. Along with their internal people challenges and clear decision-making, there is also focus on supplier communications, finance, procurement and operations.
Organisations who have a leading procurement team, with genuine category management are best-equipped to respond to the crisis. They already have in place longer-term, strategic planning and approaches that assess supply chain risks and opportunities.
Response
During the first few days and weeks of the COVID-19 crisis our inboxes were inundated with organisational responses to the virus, and what this meant for both buyers and suppliers across supply chains. Stability was the key focus; putting in place measures to survive in the short-term, whilst managing some of the business-as-usual capacity issues.
Leading organisations not only use this phase to take cost out from their business but also work with their suppliers to support them in the short-term. Consider providing relief and flexibility in areas such as payment processes (where cashflow pressures will allow), delivery schedules and work programs. Internally you should also consider flexible resourcing, shifting team members responsibilities to focus on critical supply chain and operational issues.
The virus exposed many organisations that have limited visibility on their end to end supply chain starting with what they spend. As leading industry experts, we advise our clients that it is practically impossible to manage procurement and supply chains if we don't understand what we spend – this event has once again proven that fact. We now see many organisations investing in spend analytics and supplier risk assessments to get a full picture of what is happening across their supply base.
Mitigate
The mitigation phase builds on the initial response by taking long-term, sustainable cost out of the organisation to become leaner. It is often said that you should never let a crisis go to waste, and we are seeing this in action. Some organisations are using the current climate to restructure their cost base in preparation to scale up into a more efficient organisation at the end of the crisis. Procurement opportunity analysis and supplier contract renegotiations can help; however, we should be well aware of the importance of supplier relationships to support us through the future phases.
Monitor
This is the 'wait and see' phase. Organisations monitor the latest developments locally and around the world, looking for signs of change and recovery. Those that have planned well in previous phases focus on capacity and capability development while teams have some time to invest. Online learning and communications with the team and suppliers are important to motivate and support development.
Successful teams (including your suppliers) are well prepared for the upturn! They are ready to react when positive signs are seen. Scenario planning helps forecast how the business will be impacted as lockdowns are lifted around the world. Ongoing monitoring of supply chain capacity helps identify where risks may occur.
Rebound
The rebound will come – its just a matter of timing. Leading organisations have resilient supply chains with the ability to rebound quickly as they accelerate through these stages to recovery. They have put plans in place ready for this moment. While we get confidence in the pace and stability of recovery, we look to the engagement of short-term resources and capacity to support the growth. Be ready to react! Opportunities will arise as your unprepared competitors react more slowly. Agility is key to take advantage. This is where the investment in supplier relationships starts to pay off. They will see your organisation as a 'customer of choice' – being first to you with innovation and capacity to support growth and expand quickly.
Resilience
For the longer-term, this crisis demonstrates the importance of resilience in supplier relationships and supply chains. Those organisations who rebound more quickly and have greater resilience have full visibility through their supply chain and have identified the risks and the probability of those risks occurring.
Supply Chain Resilience becomes a competitive advantage for some organisations and a key success factor for the leading procurement and supply functions around the world. It should provide the function a key strategic role that has long been touted. To become more resilient in the future, we can see shorter supply chains with more of a local/regional focus with support for stimulating local economic development.
Integrated technology tools and collaboration across networks has proven to be critical during the early phases of the pandemic and this will surely continue to be critical as supply chains work together to limit risk through recovery.
From previous crises such as Ebola and SARS, we saw that those organisations that use this time to plan and prepare for recovery are the ones that bounce back the quickest, taking advantage of the opportunities that will arise. Every night on the news we hear the calls to 'flatten the curve' or even squash it. It is important that procurement and supply chain professions do the work now to get 'ahead of the curve' to plan for recovery.
Contact us if you need support to build a more resilient supply chain.