Savings Accelerator
Take cost out of your business fast
Take cost out of your business fast
Savings Accelerator has been designed to identify opportunities to rapidly take cost out of your business and drive sustainable benefits. We take your disorganised raw data and convert it into an interactive spend cube dashboard – giving you an easy-to-analyse source of truth to enable your hunt for value.
We apply a broad range of benchmarks to create the opportunity heatmap, and test against a full set of value levers. We then work with your key stakeholder groups to validate, refine and size the opportunities before developing the execution 'wave plan' to drive savings through the organisation.
Savings Accelerator delivers an average return on investment of 10x – 15x.
Why ArcBlue to deliver your savings?
A robust implementation plan within 

6 

weeks 

​through a 

Consultative

approach

Deep analytics

skills and benchmarks from ~$300B of spend analysed to date ​

Proven approach applying a comprehensive set of value levers to uncover full savings ​potential​

Trusted procurement practitioners and negotiators with hands on delivery experience​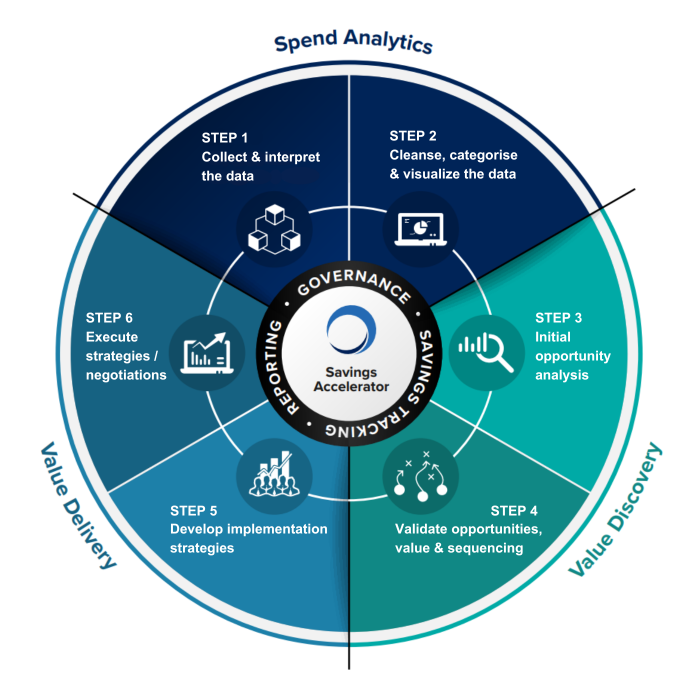 1. COLLECT & INTERPRET THE DATA
We work with your team ​to identify and collect the most complete data set possible, and ensure we have understood the nuances of your data set​.
2. CLEANSE, CATEGORISE & VISUALISE THE DATA
We'll then cleanse and categorise the data into a 'market facing' taxonomy, creating an online spend cube that can be shared with you and utilised by the team.​
3. INITIAL OPPORTUNITY ANALYSIS
An initial analysis identifies hotspots by applying a range of benchmarks, testing for certain characteristics and understanding the level of maturity in each category.​
4. VALIDATE OPPORTUNITIES, VALUE & SEQUENCING
We apply a full set of value levers and validate our hypotheses before sizing and sequencing the opportunities aligned to your objectives.​
5. DEVELOP IMPLEMENTATION STRATEGIES
Post validation, we create detailed implementation plans for your in-scope opportunities and take these through an agile governance process to ensure there is organisational support​.
6. EXECUTE STRATEGIES / NEGOTIATIONS
Approved opportunities are moved to execution as quickly as possible. Our team can either fully deliver, support or coach your team to deliver the value. Progress is tracked and reported via our portal​.
We use a proven, structured process to cleanse your data