"The ability to address key strategic challenges (including sustainability) cannot be done in complete isolation, and looking at key suppliers as genuine partners is far more valuable than viewing suppliers simply as a cost that is there to be squeezed."
Get to know Chris Hampden, Senior Consultant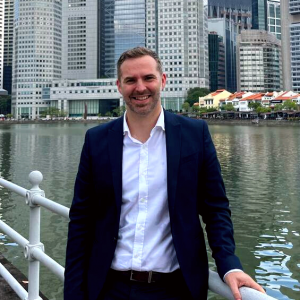 What has been the most interesting/fun project that you have worked on? 
There are so many projects I can choose from, but if I had to pick one then I think it would be the work I did to help reshape the Aerospace supply chain for a world-leading Aerospace manufacturer. This involved identifying, developing, negotiating, onboarding and managing relations with potential new suppliers in best-cost countries across the full value chain of commodities (materials, castings & forgings, machined / fabricated components, special processes, etc.). Having the opportunity to visit so many suppliers and see the development of some of those companies into key strategic suppliers over time was an absolute privilege and something I am very proud of.
How do you spend most of your days?
The vast majority of my time is spent focusing on understanding the biggest challenges that Procurement teams currently face and trying to find ways to help them to come up with ideas on how to address those challenges. Key to this is understanding how things are done in different industries and taking some of those best practices and seeing how they can be tailored to the unique situation a particular company may face, and to support this I really enjoy the process of bouncing ideas around with colleagues who have such diverse experiences in Procurement.
What are you working on at the moment?
I am currently working on a couple of really interesting projects. One is around developing our Sustainable Procurement offers, looking at how we can enhance the support we can provide our clients on their Sustainability journey. The second is working with an MNC to review their end-to-end Procurement processes, with a focus on identifying improvement opportunities around how Health, Safety and Security practices are integrated into the way Procurement operates and engages with the supply chain.
What trends do you see in your work?
Sustainability is the immediate and obvious trend that comes to mind, with a lot of the focus in the corporate world on addressing climate change challenges through their carbon footprint in particular. On a slightly different note, I would also highlight an increasing trend towards supplier collaboration and engagement, as companies start to realise that their ability to address key strategic challenges (including sustainability) cannot be done in complete isolation, and looking at key suppliers as genuine partners is far more valuable than viewing suppliers simply as a cost that is there to be squeezed.
What do you love best about procurement?
The diversity of activities and engagements you can be involved in – commercial negotiations, strategy development, operational performance, supplier collaboration, sustainability, cost management. That diversity of scope is something that I genuinely love about procurement, especially as all these areas are critical in shaping the success of a company.
What's the one thing you wish everyone would understand about procurement?
Perhaps this links to my answer to question 5. Sometimes people assume that Procurement is simply there to chase every last dollar and cent out of a contract. Of course, driving competitive pricing is an important part of the job, but Procurement can add so much more value to any organisation.
What are you currently trying to upskill in?
Over the past 18 months my focus has been on building up my knowledge and experiences related to Sustainability and Sustainable Procurement. This is such a hot topic right now, and it's an area where I feel Procurement can add real value to companies as they pursue their sustainability objectives. For anyone that is interested in this area, I'd highly recommend the intense but highly rewarding Business Sustainability Management (BSM) short course offered by the University of Cambridge's Institute for Sustainability Leadership (CISL).
What's the reason you love to work at ArcBlue?
There are several great reasons for me to love ArcBlue, one of which is the really positive feeling I have when talking to everyone within the company. It is very rare to come across a company culture where everyone is genuinely open, collaborative and down-to-earth, but this certainly exists within ArcBlue. This stems from the leadership within the company, but I also think it helps that the company is full of real-world practitioners that have lived and breathed Procurement and share a common interest in wanting to help companies to get Procurement 'right'. The other major personal factor was the exciting growth trajectory for the business across Asia Pacific, and the opportunities that it presents to work on projects that add value to clients across different industries and cultures.
What is something not many people know about you?
I am a huge sports fan. When it comes to 'doing' I am into triathlon and cycling, but my daughter has started to get me interested in rock climbing too. When it comes to 'watching', then football (especially the mighty Crystal Palace), rugby and cycling top the pile.
Want to know more? Reach out to Chris