Probity Services
Safeguard your organisation
Safeguard your organisation against probity risks
Our team of highly capable, specialist probity consultants deliver a range of probity services including Advice, Audit and Training to ensure organisations and procurement teams understand their probity obligations and the consequences of improper practices.
ArcBlue has extensive probity experience, having delivered over 100 probity assignments. Our team of Probity Advisors have strong Government experience and a deep understanding of the challenges and probity risks that commonly arise in procurement projects. We understand the requirements and sensitivities around high value, high risk projects.
Our experience ranges from establishing frameworks designed to address key governance and probity requirements while delivering value for money outcomes, through to procurement process facilitation services that extend from procurement planning to contract execution.
We are members of several Government probity panels and have experience providing probity services across all levels of government, and on a variety of projects including politically sensitive projects, and capital works.
Probity at ArcBlue has four key goals: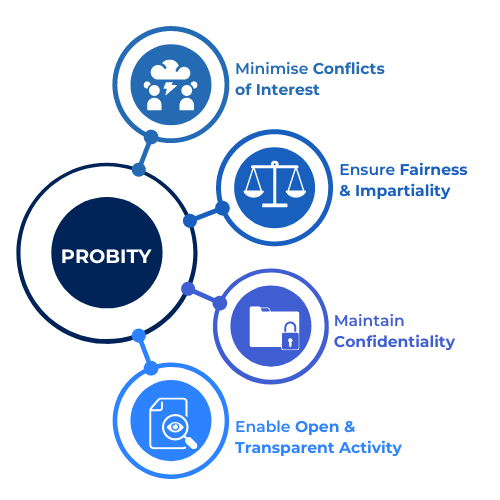 Our Approach to Probity
Our approach to probity advisory services is underpinned by our outcomes-focused 'Adaptive Probity' model. While undertaking Probity Audit or providing Advice, we consider the 5 interrelating probity fundamentals as they are applied to a project. These include:
Impartiality – Promoting unbiased and neutral decision-making, free from the effects of conflict and favouritism
Confidentiality – Protecting sensitive information from unauthorised disclosure
Accountability – Ensuring complete and accurate records are maintained demonstrating why and how decisions were made, along with clear procedures for identifying and resolving risks and concerns
Transparency – Demonstrating responsiveness, openness and honesty, equitably sharing information and records
Ethics – Fostering behaviours and decisions that align with organisational and social values, to do what ought to be done to promote long term trust and confidence
The ArcBlue 'Adaptive Probity' model is a pragmatic approach which supports procurement processes that are outcome-focused. It recognises that while it is essential to align with the traditional principles of probity such as impartiality, confidentiality & compliance with legislative and policy obligations, to maintain trust and confidence it is equally important to align with contemporary community and stakeholder expectations.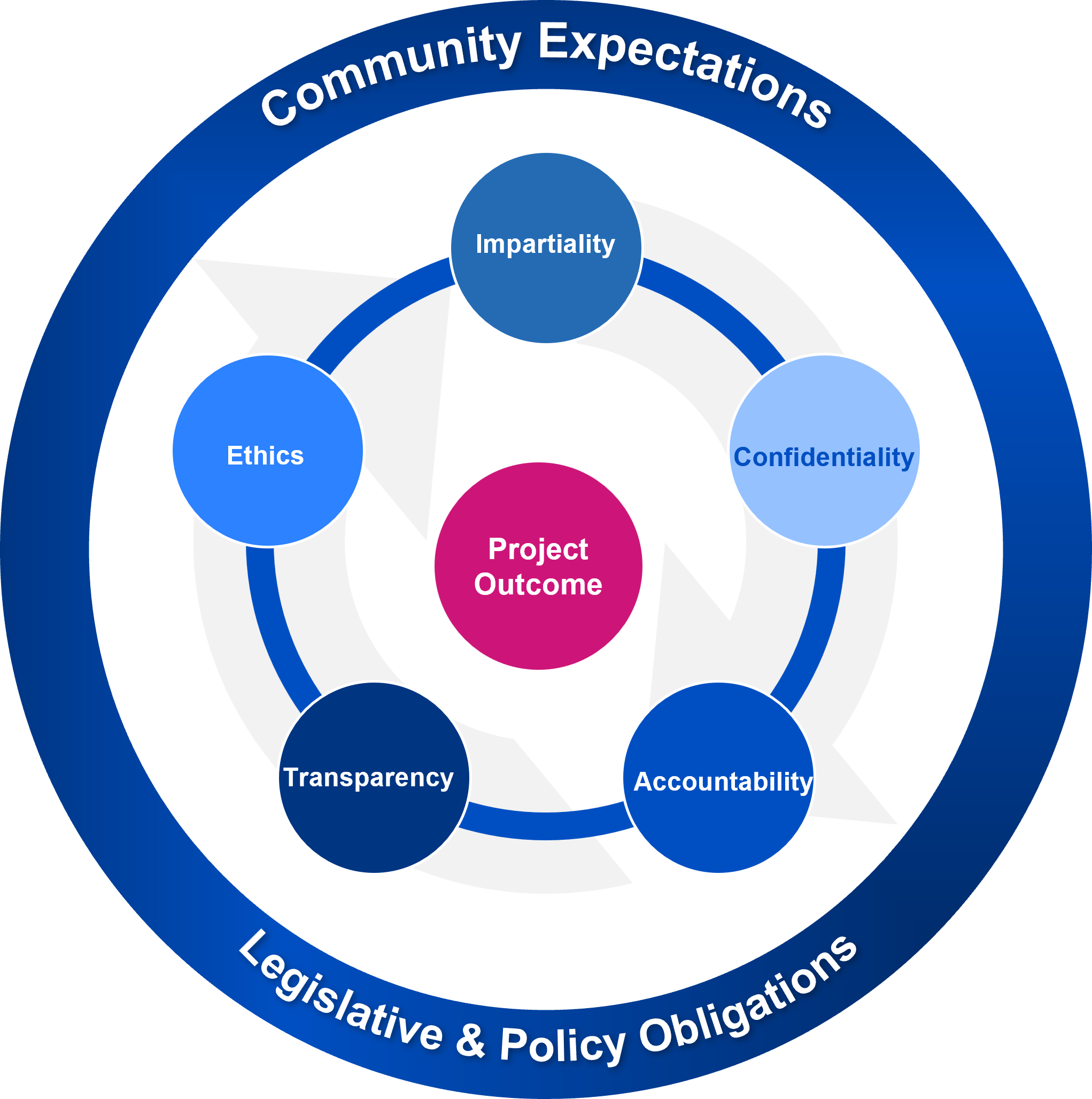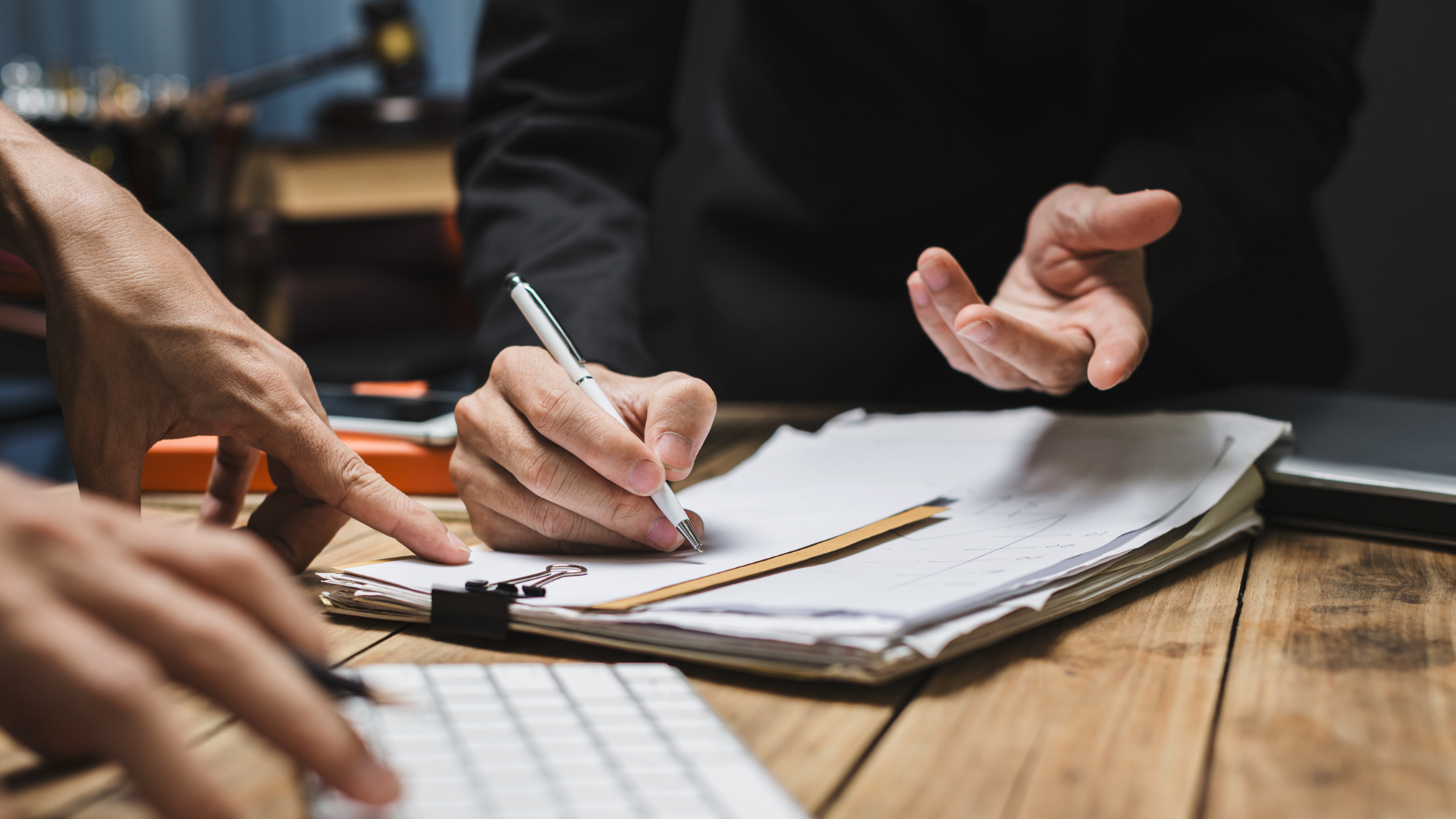 Probity Advisory
Expert probity advice to guide your procurement projects and improve procurement outcomes
ArcBlue Probity Advisors provide advice and assistance before and during the course of your procurement process to improve the procurement outcome and address any arising probity issues.
Our probity work is delivered to the highest standards of integrity and in line with the requirements of Australian Standard AS 8000. These standards and guidelines, which are accepted across Government and Industry, provide the framework for the probity assignments we undertake and ensure that our probity work is in line with best practice.
ArcBlue Probity Advisory ensures established frameworks, guidelines and policies are utilised within a planned procurement project. The Probity Advisor assists the team in anticipating potential probity issues and addressing mitigation strategies to potential probity-based issues as they occur, and highlight all probity related risks before they become a problem.
Advice is provided on an informal and formal basis throughout an engagement with a final summary report provided as a supporting document to the recommended procurement outcome if required.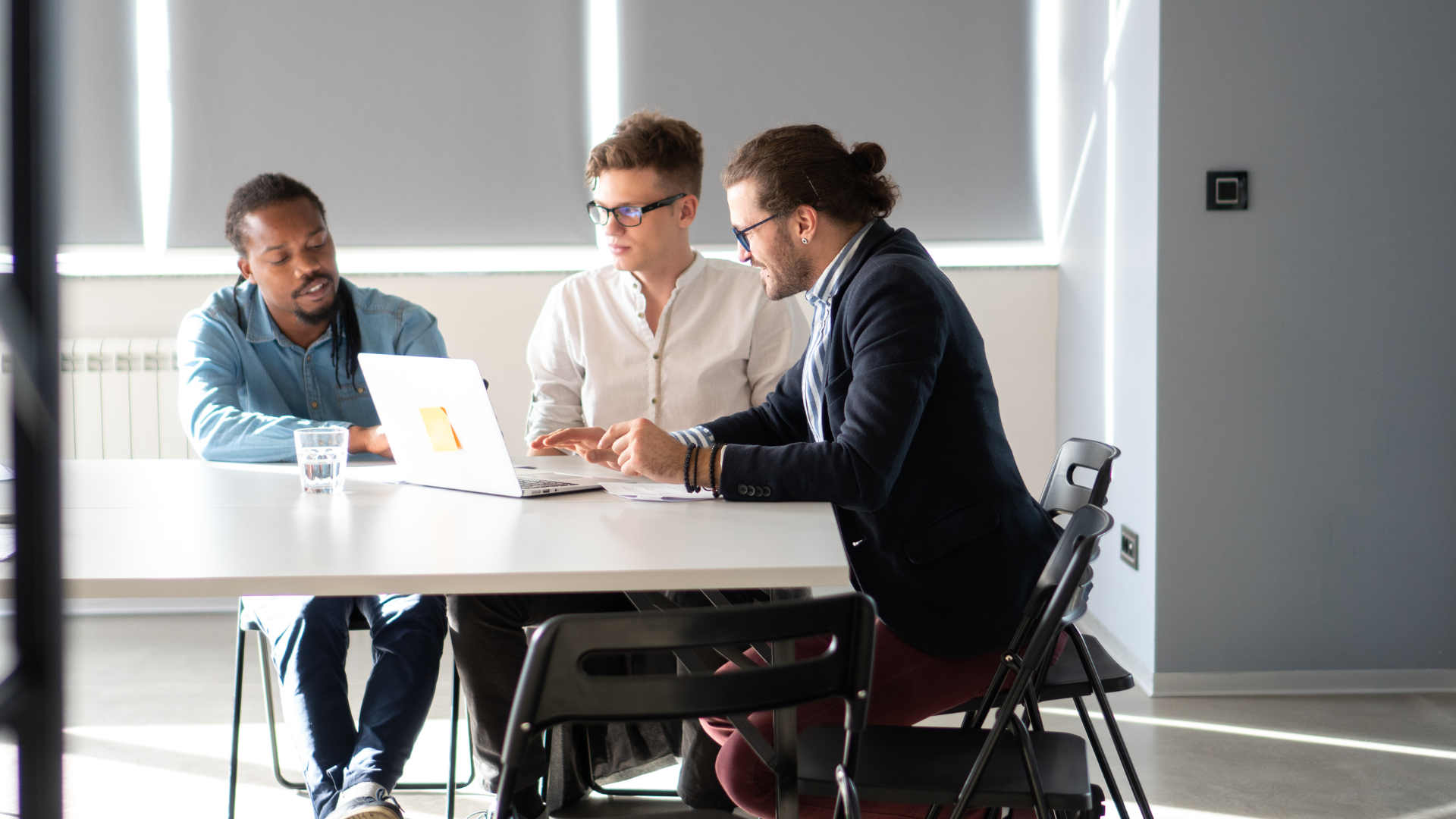 Probity Audit
Review the probity of your previous procurement processes
Utilising our 'Adaptive Probity' model alongside our extensive knowledge of legislative and policy obligations, ArcBlue can conduct a probity audit to review past procurement processes undertaken and recommend appropriate solutions to avoid future risks. 
Our Probity experts will generate a report, providing key insight into the procurement process, documenting any findings and providing suggestions where possible to ensure the highest standards of procurement in alignment with community expectations. Our Auditors can identify and advise if there were probity breaches within the procurement process, interview those involved and determine appropriate solutions.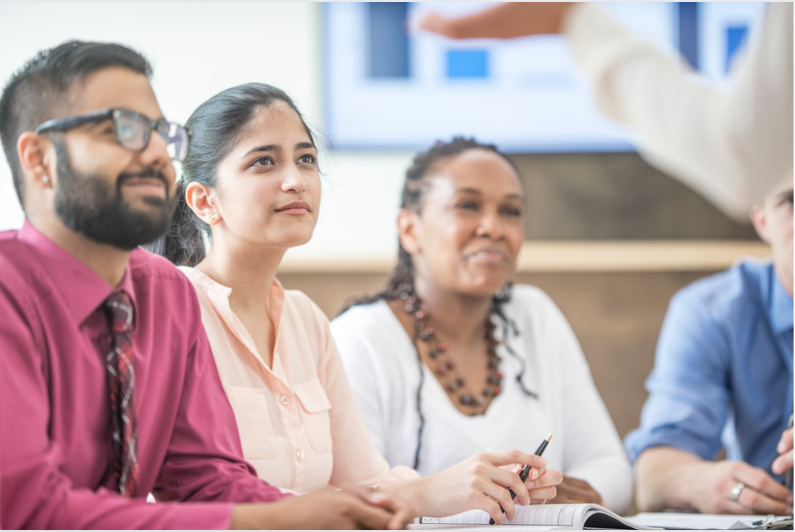 Probity Training Courses
Active learning to help safeguard your whole organisation against probity risks
ArcBlue's workshops deliver real value by being practical, thought-provoking, challenging and fun. They combine content delivery, interactive activities and facilitated discussions. We offer two formats for training courses: In-company training for teams, and Open Training workshops for individuals.
In-Company Training
In-Company training is tailored to be relevant, engaging and thought provoking for your team. We offer two delivery modes for in-company training courses: Face-to-face in-company training, or training for your team – delivered online. Our experienced facilitators carefully ensure participants are engaging in content regardless of the delivery format, meaning the online option can be well-suited to teams situated in multiple locations.
We can also create modular programs tailored to meet your current requirements. We listen and respond to your business challenges, analyse what skills and capabilities are needed, then build workshops that deliver benefits.
In-Company Probity Training Courses include:
Probity in Procurement  –  1/2 Day Course
This half-day workshop defines probity, probity risks, probity in the Procurement Lifecycle and probity requirements. 
Fraud and Corruption  –  1/2 Day Course
An interactive half-day program designed to give participants strategies and techniques to successfully manage fraud & corruption in
procurement. 
Online Open Training
Your team members can join a diverse cohort of learners to uplift their probity skills with our online open training courses. 
​Open training offers individuals the opportunity to take initiative to boost their own skills in line with their career objectives in an easy to book, affordable and accessible format. It provides a cost-effective way to provide probity onboarding training to new team members. 
Our Probity in Procurement, and Fraud and Corruption courses are offered as Open Training courses. See our upcoming courses using the link below.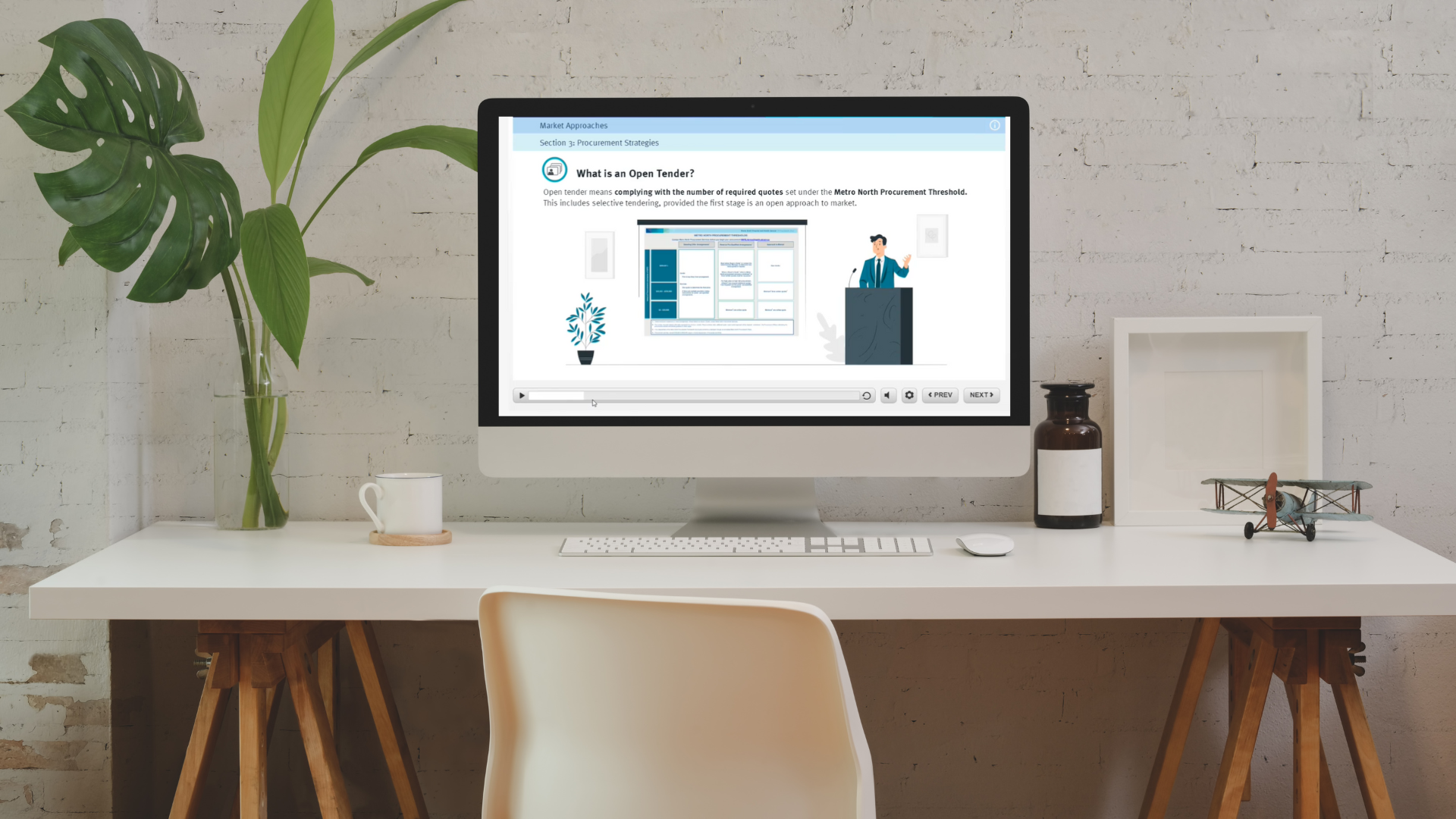 eLearning
Bite-sized online learning that fits around a busy schedule to upskill your whole organisation on Probity quickly
eLearning offers a 'right now' approach to delivering cost-effective training. Learners can experience bite-sized modules from their computers or laptops, easily fitting into their daily work schedule.
As well as our specific Probity module, we offer three modules that take a broader view and include how probity fits into the context of Procurement, Evaluation Panels and Contract Management. Relevant modules include:
Probity for Purchasing and Procurement

Procurement Essentials

Evaluation Panel Responsibilities

Contract Management.

​
Need to safeguard your organisation against probity risks?
ArcBlue's team of highly capable, specialist probity consultants deliver a range of probity services including Advice, Audit and Training to ensure organisations and procurement teams understand their probity obligations and the consequences of improper practices.
Find out how ArcBlue can help you 
The benefit of ArcBlue Probity Expertise
A proven record of successfully delivering specialist probity services
Experience with Commonwealth, Central, State and Local Governments
Ability to deliver within tight timelines
ArcBlue Probity Consultants are procurement professionals first and foremost 
We deliver viable, practical solutions to probity problems
Our local and international experience provides new perspectives on how to enhance value